Rebalance Biohealth is a provider of health and wellness solutions to help you look and feel your very best.
Through our partnerships with leading medical practices and providers we provide hormone optimization, face & body medical treatments and wellness products to help you discover the optimal you.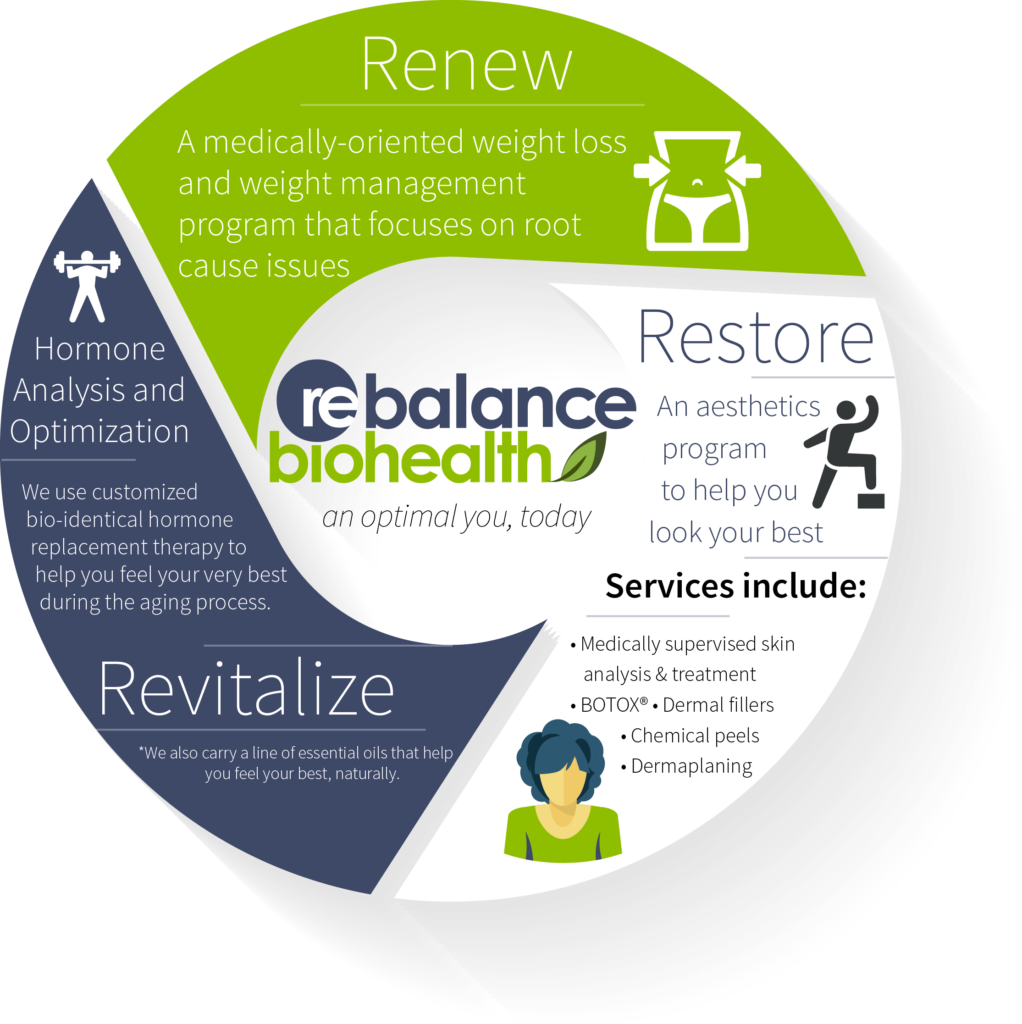 Rebalance Biohealth personalized solutions
Revitalize — Hormone analysis and optimization treatment through bio-identical hormone replacement therapy (BHRT).  Many of the aging issues and symptoms are a direct result of hormone imbalances.  Our BHRT treatment can help you feel younger and healthier while providing increased protection of the bones, breast, brain and heart.  We can also help with medically related weight loss issues.
Rejuvenate — Collection of face & body medical treatments to help you look your best.  Facial treatments include medically supervised skin analysis and treatment, BOTOX®, dermal fillers, chemical peels, dermaplaning, and more.  Body treatments include body sculpting and vaginal regeneration.
Replenish — Line of high quality supplements, nutraceuticals, essential oils and other wellness products to help keep you healthy and feeling your best.  Our Pro>Solution line is sold in our offices and through our website, while our Health@Home program allows you to register for direct-to-consumer discount programs with leading wellness companies.
The Rebalance Biohealth medical staff is excited to share their passion for wellness solutions in your health journey… we invite you to rethink your health care approach.
Learn more by making an appointment with our healthcare professions at any of our convenient locations.
Are you a candidate for BHRT?
(Bio-Identical Hormone Replacement Therapy)
Bio identical hormones are non-synthetic, plant-based hormones that are identical biologically to human hormone. The best analogy to differentiate bio identical from synthetic hormones is to look at the hormones and the receptors they activate (hundreds of thousands in our bodies) as a lock and key. The hormone is the key and the receptors they work upon are the locks. Bio-identical hormones fit perfectly in the lock, and unlock all of the beneficial effects of hormones, and when dosed properly, as with the BioTE® Pellet Therapymethod, have minimal to no side effects. Synthetic hormones, however, fit in the lock, but do not turn the lock and release many unwanted side effects.
By "bio-identical" we mean that the biochemical structure of the hormone is perfectly matched to the hormone produced in a woman's body by her endocrine system. Bio-Identicals used inhormone replacement therapy are neither a horse's hormone nor an artificially formulated (synthetic) that is intentionally manufactured to be slightly different from human hormone in order to patent it.
Bio-Identical hormones are plant-based, natural substances that our bodies can metabolize in the way it was designed to do, minimizing side effects. These compounded bio-identicals can be matched to each person's unique needs, something that's impossible with mass-manufactured products.
Countless people have now made the switch to natural bio-identical hormone therapy. These human-identicals have long been preferred for hormone therapy in Japan, France and other European countries. They've been the subjects of many research studies on hormone therapy in which significant health benefits have been reported for both women and men. Data also continues to indicate that receiving hormone replacement therapy at the start of menopause can be very important to a woman's ongoing health.
Common indicators of a hormonal imbalance:
Depression

Irritability, mood swings
Extreme fatigue

Difficulty sleeping
Low sex drive

Memory loss, mental fog, confusion
Joint aches and pain

Night sweats, hot flashes